Hoe-kan-ik-betalen
112inktcartridges.nl biedt u de volgende manieren om te betalen:
U kunt bij ons op verschillende manieren betalen:

iDeal
Met iDEAL kunt u vertrouwd, veilig en gemakkelijk uw online aankopen afrekenen. iDEAL is het systeem dat u direct koppelt aan uw internetbankierprogramma bij een online aankoop. Om gebruik te maken van iDEAL hoeft u zich niet te registreren, bestanden te downloaden of een account aan te maken. Maakt u gebruik van internetbankieren bij ABN AMRO, ASN Bank, Friesland Bank, ING, Rabobank, RegioBank, SNS Bank, Triodos Bank of Van Lanschot Bankiers, dan kunt u direct met iDEAL betalen. U rekent dan snel en gemakkelijk af in de vertrouwde internetbetaalomgeving van uw eigen bank. Betalen zoals u eigenlijk al gewend bent.

Hoe werkt iDeal?
Betalen met iDEAL doet u in een paar stappen:
U bestelt een product

Kies iDEAL als betaalmethode

Selecteer de bank waar u uw bankzaken al online regelt

U komt direct in het bekende internetbankierprogramma van uw bank

De relevante gegevens van uw aankoop zijn al ingevuld

Op de voor u bekende manier keurt u de betaling goed

U ontvangt een bevestiging van uw bank

U keert terug naar de webwinkel, bestelling en betaling geslaagd
Uitgebreide uitleg en informatie over iDeal kunt u vinden op de website van iDeal.
Veilig achteraf betalen bij 112inktcartridges via Klarna Bekijk de voorwaarden
Koop nu en betaal pas over 14 dagen!
Voor klanten binnen Nederland is het mogelijk om achteraf te betalen via Klarna Factuur. Als u kiest voor achteraf betalen met Klarna Factuur ontvangt u eerst uw bestelling in huis en heeft u 14 dagen de tijd om deze te betalen.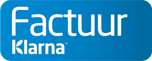 Onze betaalpartner Klarna zal u per e-mail de factuur toesturen. De betaling hiervan dient u binnen 14 dagen aan Klarna te voldoen, zoals aangegeven op de factuur. Om achteraf te kunnen betalen met Klarna Factuur, dient u 18 jaar of ouder te zijn. Het verzend- en factuuradres moet hetzelfde zijn. Door voor deze betaalmethode te kiezen gaat u automatisch akkoord met de algemene voorwaarden van Klarna.
Stapsgewijs betalen met Klarna:
Kies tijdens het bestelproces voor Achteraf betalen met Klarna Factuur.
Vul uw gegevens naar waarheid en zo compleet mogelijk in. Op basis van uw gegevens vindt binnen enkele seconden een kredietcheck plaats. Deze check kijkt of u in aanmerking komt om met Klarna te betalen. Lukt het de eerste keer niet, geen nood, dit kan ook door een typefout komen. Controleer daarom uw gegevens en probeer het gerust nog een keer. Wordt u onverhoopt toch geweigerd door Klarna, dan kunt u altijd nog een andere betaalmethode kiezen.
Indien u binnen 5 dagen na ontvangst van uw bestelling geen factuur heeft ontvangen, verzoeken wij u contact op te nemen met ons of met de klantenservice van Klarna (020 - 8082852).
Voorkom aanmaningskosten door uw factuur binnen 14 dagen aan Klarna te betalen zoals aangegeven.
Kortom: eerst zien, dan pas betalen. Veilig en simpel.
Voor de service van achteraf betalen via Klarna Factuur, berekenen wij € 1,00 administratiekosten en 2,99% over het aankoop bedrag excl verzendkosten.Heeft u nog vragen, of komt u niet door de kredietcheck? Neem dan contact op met de klantenservice van Klarna (020 - 8082852). Klarna behoudt zich het recht voor om in incidentele gevallen betaling via Klarna Factuur naderhand af te keuren. Mocht dit onverhoopt het geval zijn, dan zal u daar per e-mail over worden ingelicht. Desgewenst kunt u contact opnemen met Klarna voor een opgave van de redenen voor de weigering.
Paypal
Of het nu op Marktplaats of eBay of elders op internet is, u hoeft uw creditcard niet bij de hand te houden om te betalen. Uw bankrekening of creditcardnummer is immers al veilig opgeslagen in uw PayPal-rekening dus het is niet nodig eindeloos uw gegevens in te voeren. Met PayPal heeft u alleen uw e-mailadres en wachtwoord nodig en kunt u binnen een paar klikken veilig online betalen.

Uitgebreide uitleg en informatie over Paypal kunt u vinden op de website van Paypal.

Overboeking
Ook wanneer u niet internetbankiert en geen Paypalaccount heeft is het mogelijk om van onze webwinkel gebruik te maken. Wij bieden namelijk ook de mogelijkheid dat u middels een overboeking betaalt. De gegevens die u hiervoor nodig heeft ontvangt u na het plaatsen van uw bestelling. Schrijf deze gegevens handmatig over, aangezien deze in de orderbestiging die u per e-mail ontvangt niet meer getoond worden.

Mocht u van deze betaalwijze gebruik maken, houd er dan rekening mee dat het meestal een aantal dagen duurt voordat uw betaling bij ons binnen is. De leveringstijd is met deze betaalwijze dan ook doorgaans langer dan wanneer u met iDeal of Paypal betaalt.

Indien u kiest voor overboeking dan kunt u na het plaatsen van uw bestelling de betaling overmaken met onderstaande gegevens.
Dvdboxshop
Bank nr. : NL37ABNA0471829234
Rotterdam
Vermeld bij uw betaling als kenmerk uw bestelnummer, u vind uw bestelnummer in de bevestiging van uw bestelling die u per mail ontvangt

Wanneer uw betaling bij ons binnen is wordt uw order verwerkt en ontvangt u de bestelde producten zo spoedig mogelijk.